22 November
🐑 🐑 🐑
The sheep are soon to be moved back out to the field to make room for the cows who will be overwintering in the barn.  This protects the pasture from being churned up. The bull, cows and calves go in one side.  And the young teenagers go in here where the sheep are.  They can be a bit boisterous.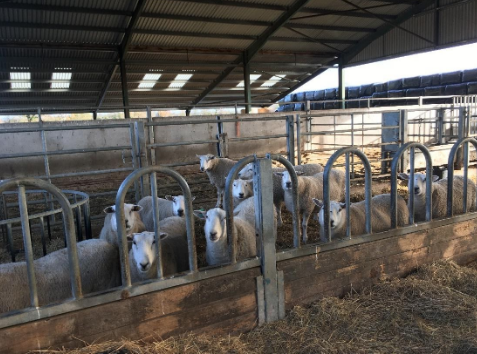 ---
24 November
🐑 🐑 🐑
The rams have been put in with the ewes.  Rambo and The Krays are in one field.  SuperRam is in his own field with his harem.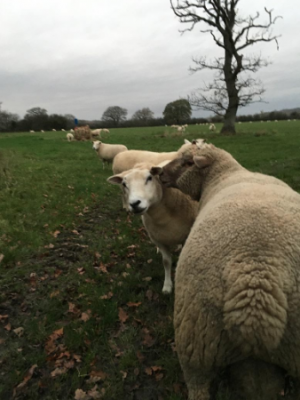 Rambo whispering sweet nothings?
We have been visiting Rambo with a few pellets to keep an eye on him (sometimes the rams fight).  He is in a huge field and it's a bit of a trek to locate him but he does come trotting over when he eventually sees us.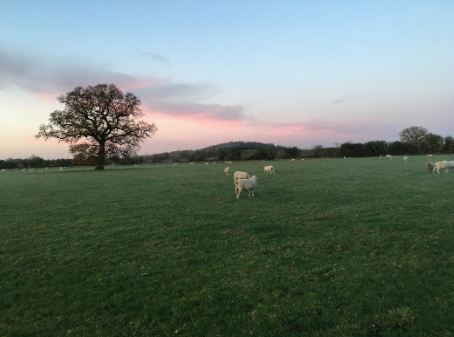 The cows are now settled in the barn, it looks very cosy.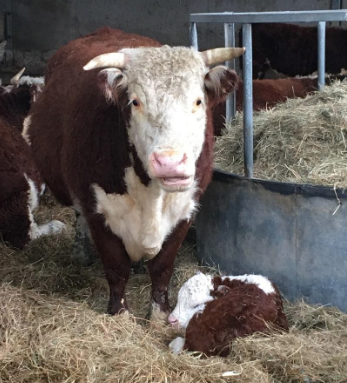 The tombstone feeders have been installed, which means the tractor can now drive down the side of the barn and lay out the feeding hay (last year, the tractor had to drive into the pen itself to take hay in).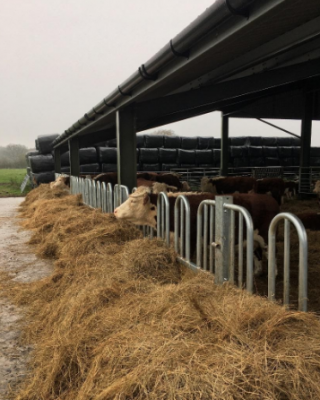 ---
29 November
🐑 🐑 🐑
Moving day.  The flock trooped from the barn to the orchard, crossing one large field.  We led the flock with the promise of sheep nuts and Chris and Rosie brought up the rear.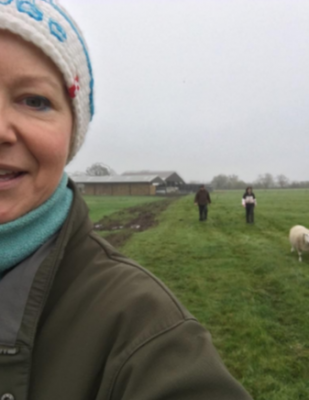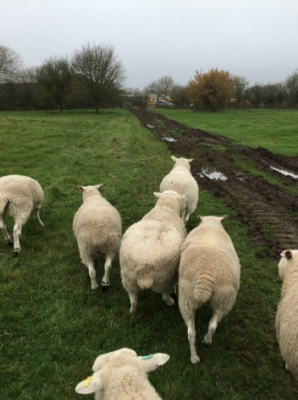 They seemed pretty happy to be back in the orchard with GRASS!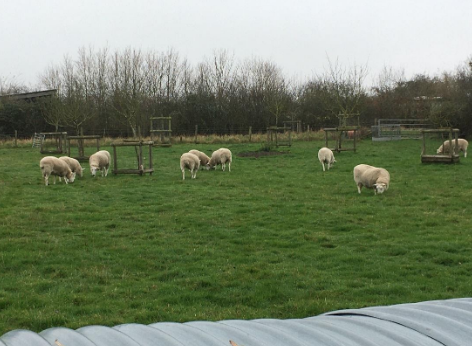 ---
5 December
🐑 🐑 🐑
Rambo is looking a little worse for wear.  He is hobbling around.  So is Reggie so I'm not sure if it's a foot problem or a fight problem.  There were a few tell tale blood splodges on Rambo's side (likely from another ram's head, their bony heads get a bit bloody from the head butting).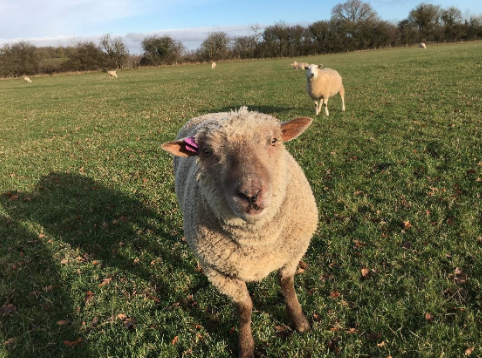 ---
13 December
🐑 🐑 🐑
It's pouring and the sheep are wondering why they were in the barn during the lovely summer and are now out in the field in the rain.
I might add they do have a pig arc to shelter under, but they are choosing to shelter under the old orphan shed which really is on its last legs.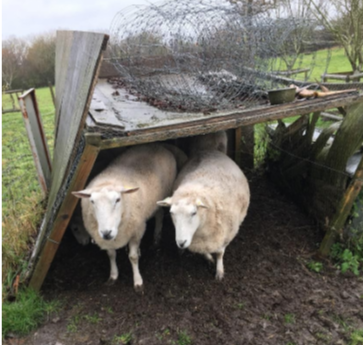 A quick hello to the cows and we came across Dwayne the bull.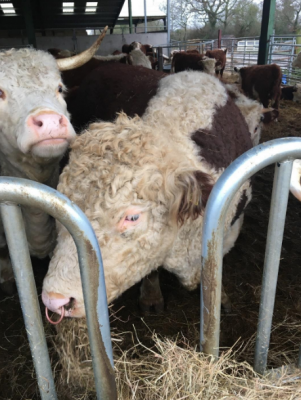 Finally we looked in on Rambo … feeding him pellets always attracts the ewes and there is a gathering around Rambo.  A bit like bees round a honey pot.  Unfortunately for Rambo they soon disperse when we leave.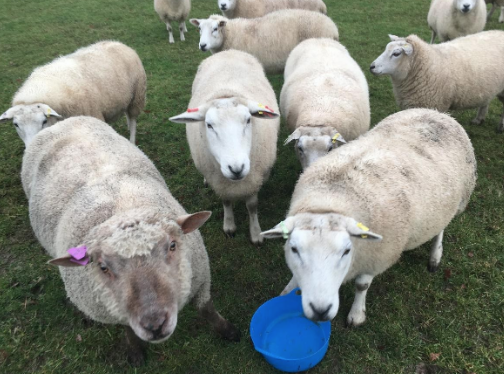 They usually won't come within touching distance.  But today one ewe barged in demanding to be fed and was very brave and even allowed herself to be stroked!  She is super friendly.  She has a red tag and a yellow tag in one ear – both with different numbers.  She's called Two Numbers for now. That is her in the middle next to Rambo.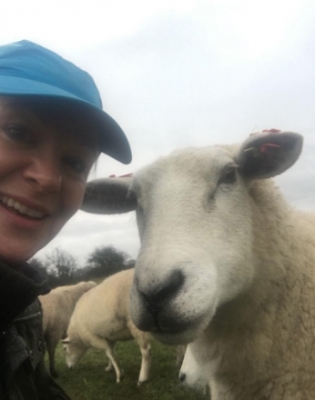 ---
19 December
🐑 🐑 🐑
Two Numbers now trots over faster than Rambo every day for some pellets.  We've had to start feeding them both by hand rather than offering them the bucket otherwise all hell breaks loose, there is a surge of sheep and an Lsd staff member ends up on the floor.  
52 continues to look a little thin so he's had some anti biotics and has some pellets every day.  We put him in a pen during feeding time to stop the others barging in.  Pecky half strangles himself forcing his head through the bars to get at the bucket.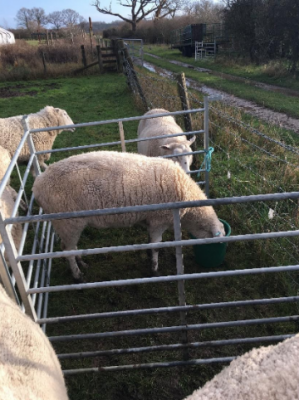 The feeder is now ankle-deep in mud.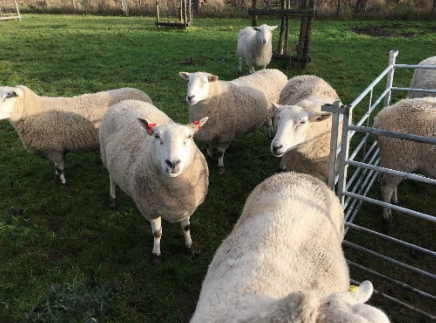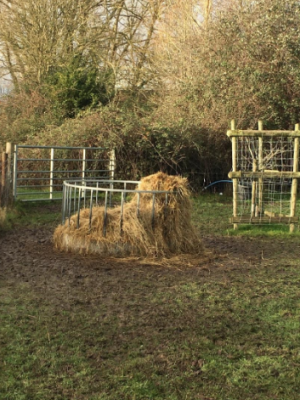 🐑 🐑 🐑
Lsd wishes you a very happy Christmas and New Year.  We hope you and your families stay safe and well.